COOL-FX, A WHITE ROOF COATING
EXTREMELY HOT DAYS IN SUMMER
Nowadays, there can be periods in summer when the weather becomes so sweltering that the stifling heat easily manages to penetrate inside. The hot air hangs like a leaden blanket over a house, stable or factory, resulting in rising temperatures inside the building. Periods like this are becoming more frequent every year, making solutions for such conditions increasingly desirable.
WHAT IS WHITE ROOF COATING?
Especially in buildings where the roof is black, the warming of this roof, and thus the building, can be significant. The black colour of the roof absorbs light and heat from the sun. Cool-FX is a white roof coating. It makes the roof white, thus reflecting light and heat.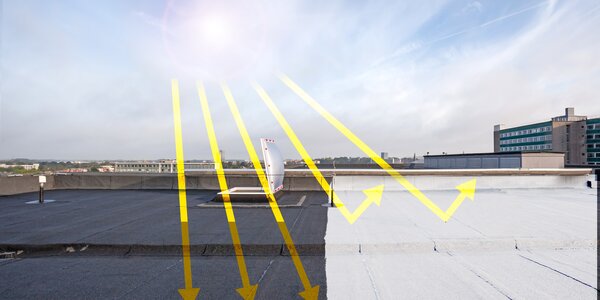 The theory is simple, but the effect is substantial! Thanks to Lumiforte's years of experience with coatings, Cool-FX has been developed to the point where it works perfectly for the desired period of the year!
WHY A WHITE ROOF COATING?
There are several benefits to whitening your roof. Whether it is a bitumen, metal, tar or gravel-covered roof, painting your roof white provides the following benefits.
• The indoor temperature is reduced by 2 to 7 degrees compared to a black roof
• Better living and working conditions inside the building
• Saving on energy costs for air conditioning
• Longer lifetime of the roof, as the roof temperature can drop by up to 35 degrees
HOW DO I APPLY WHITE ROOF COATING COOL-FX?
1. Stir Cool-FX thoroughly before use
2. Mix Cool-FX with clean water, according to the desired concentration, to a uniform paint
3. The spray-ready coating can be sprayed with standard spraying equipment. Cool-FX can also be applied with a paint roller
4. Over time, the coating will gradually wear off the roof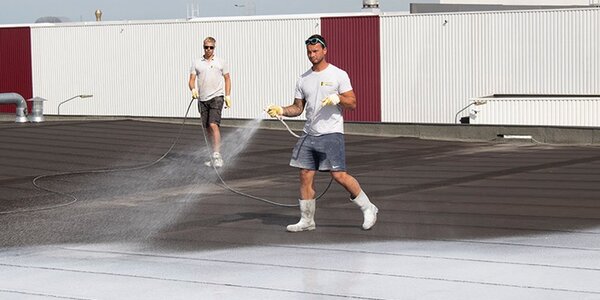 WHAT DOES IT COST?
A bucket of Cool-FX can be purchased from one of our distributors. Depending on what price they charge, a 20 kg bucket costs between €65 and €75. How much area can be treated with one bucket depends on the type of roof. Below is an overview:
| | | | |
| --- | --- | --- | --- |
| Concentration* | Type of roof | m2 per bucket | |
| 1 to 2 | Tar, gravel & bitumen | 250 | |
| 1 to 3 | Tar and metal (old) | 300 | |
| 1 to 4 | Metal (new) | 350 | |
(* 1 part Cool-FX to # parts of water)
SUMMARY
In summary, Cool-FX creates a more pleasant living and working environment inside buildings, especially when the building has a black roof. In addition, it can provide substantial energy savings. Moreover, it is easy to apply on different types of roofs. Cool-FX is the right solution to provide your roof with a white coating, when it is needed. Contact us now!
DO YOU ALSO WANT TO COAT YOUR ROOF?